Financial Planning
Why do Financial Planning?

There are a number of reasons to do planning. First and foremost, it forces you do refine your goals and priorities and make quantitative and qualitative decisions about your money.

It also requires you to look carefully at where your money goes and begin to direct it in a meaningful fashions, instead of wondering where it disappears each month, By creating an overall financial plan you'll be able to focus on and control the many financial components that can benefit you and your family in the long run, including meaningful saving and investment plans, retirement planning, tax management, and estate & insurance planning.

Dev Investment - Financial Planning is unique in two important respects.

One is Dev Investment long standing expertise in the field of financial planning. Our specialists have counseled wide range of clients - from individuals to couples and corporates about retirement, investments , insurance, estate planning, and all other financial planning disciplines.

The other unique aspect of Dev Investment is our emphasis on the relationship between life events and financial planning.

Depending on your stage of life, you may find certain aspects of financial planning more applicable. If you're in your 20s, for instance saving for a home may be more important than retirement planning. Similarly if you have young children, you may be more concern about education funding than about other issues. You should, of course, recognize the need to look- and plan - ahead for future events.

But, a general- and potentially superficial approach to financial planning may detract from zeroing in on what concerns you most right now.

For this reason, we at Dev Investment focus on the events that are significant at specific stage of your life.

The financial picture is about to change, perhaps dramatically. Unfortunately, ignoring the situation can have far reaching, significant effects, while good financial planning can help secure the future.

Whether your goal is buying a new home, sending your kids to good schools, or retiring at 50 is up to you. What's key is that planning will increase the likelihood of your meeting those goals.

That planning is essential makes perfect sense since any customized road map helps you arrive at your destination more efficiently than guesswork ever will.

To be of most value and use to you, a financial plan has to provide the answers to three important questions about your financial life:

Where are you now?
Where do you need to be?
How will you get there?
Only with these answers, which our Financial Planner will help you find, will you have the power to control your financial future.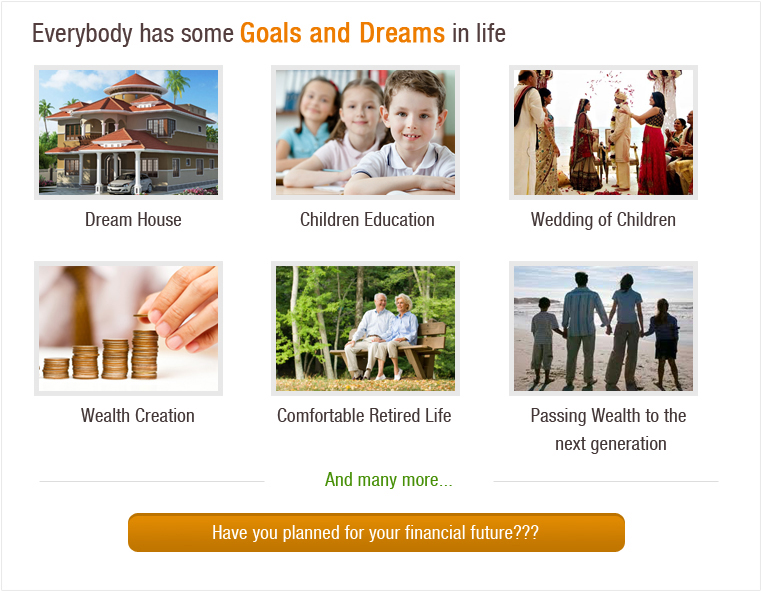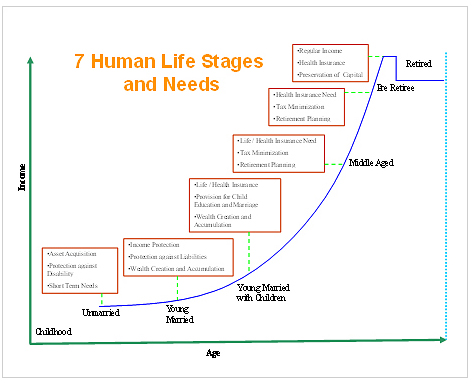 Core Principles of financial Planning

Start investing early - it makes an exponential difference

Mr. Mohan started investing Rs. 4000 per month at the age of 30 and his friend Mr. Sohan started slightly late at age 40. He invested Rs.6000 per month. When both of them retired at age 60.
| | Mr. Mohan | Mr. Sohan |
| --- | --- | --- |
| Age at which began investing (yrs) | 30 | 40 |
| Monthly Investment Amount (Rs.) | 4000 | 6000 |
| Total Amount Invested (Rs.) | 14,40,000 | 14,40,000 |
| Corpus at age 60 (Rs.) | 91,17,301 | 45,94,181 |
Mr. Mohan is a richer man by almost Rs. 45,00,000
Life Insurance
What is life insurance

Life Insurance is an insurance cover taken for a human life. In life insurance, the insured (customer) agrees to pay a set premium for a certain number of years to the insurer (insurance comapny).

Payouts by the insurer happen as and when either of these two events occur-
The agreed number of years lapse, or at 'Maturity'.
Unfortunate death of the insured.
Life insurance is a source/medium/platform of providing a strong financial support for your family after your demise.
It is a sound financial planning of your family for a better tomorrow.
It helps you achieve your long term goals in life.
Brif Introduction
Purchasing a life insurance policy is a must with the changing situations of life.
Taking insurance is something that one should never take lightly as it ensures that their loved ones will be taken care of in case of unfortunate events.
Before buying your policy, one should have a complete look at their personal finances.
General Insurance
General/Non-life insurance
A form of insurance mainly concerned with protecting the policyholder from loss or damage caused by specific risks. Examples include Property/Casualty Insurance, Health/ Disability Insurance Business/ Commercial Insurance.
What is General insurance
Any insurance other than life insurance is called general insurance. Examples are insuring property like house and belongings against fire and theft or vehicles against accidental damage or theft. Injury due to accident or hospitalisation for illness and surgery can also be insured. Your liabilities to others arising out of the law can also be insured and is compulsory in some cases like motor third party insurance.
Who should buy General insurance
Anyone who owns an asset can buy insurance to protect it against losses due to fire or theft and so on. Each one of us can insure our and our dependents' health through hospitalisation and personal accident policies. To buy a policy the person should be the one who will bear financial losses if they occur. This is called insurable interest.

What kind of policies are thre?
Most general insurance policies are annual – that is, they last for one year. Some policies are given for longer periods – like fire insurance for residences – and some for shorter periods – like insurance for goods transportation or for emergency medical treatment during foreign travel.